Reporting abuse can be very difficult, if you have either been abused or are being abused now, there is help and support available.
If you have been affected by abuse, however long ago, or if you are concerned that someone else is experiencing or has experienced abuse in a church setting, we want to help.

On this page, you will information about :
Support available from the Church
Raising a complaint or concern about our safeguarding practice
Signposts to external organisations that can offer support
Links to victim/survivor-led websites
Key contacts
Support available from the Church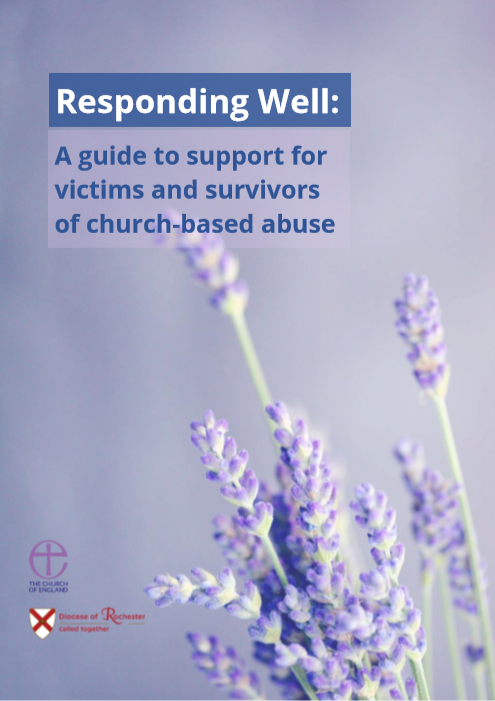 If you are worried about someone and want to raise a concern or report abuse, you can contact one of the Diocesan Safeguarding Advisers. View their contact details
The Responding Well guide aims to explain what support you can expect from the Church. Download the guide or click the image to the right.

The Church of England's Interim Support Scheme offers immediate help and support to survivors whose life circumstances are significantly affected by the abuse suffered, and the response to it.
Raising a complaint or concern about our safeguarding practice
As a Safeguarding Team, we endeavour to provide the highest level of professional service and support as possible.
However, if you are concerned about any safeguarding practice or service you have seen or received. either from the Diocesan team, a church, or another part of the Diocesan support structure, please do contact us.

Where else you can report a concern about safeguarding practice
If you do not feel comfortable raising your concern with the team directly, you can approach the Chair of the Diocesan Safeguarding Advisory Panel, Dr Liza Thompson on DSAPChair@rochester.anglican.org
The Diocesan Safeguarding Advisory Panel is a group of external safeguarding professionals, along with senior clergy and officers from the Diocese and the Cathedral, who provide quality assurance and challenge in regard to safeguarding.
In this short video (see above), Dr Liza Thompson, the Independent Chair of the Diocesan Safeguarding Advisory Panel, explains more about how victims and survivors can help us shape and improve our response. (Captions available)
Signposts to external organisations that can offer support
We have compiled a downloadable list of national and local organisations and services that can be approached for support. We highlight some of the key ones below:
Links to victim/survivor-led websites
Here are details of some websites and blogs which have been established by victims and survivors of abuse.
House of Survivors - This is an information-based site for Survivors of Church of England-based abuse and Safeguarding employees within the Church of England. Please be aware that a disclaimer on this site warns that it contains some distressing content. Please exercise self-care. Should you need support, please visit one of the services listed on the website or use the Quick Exit button available on the site itself.

Survivors Voices - Survivors Voices is a survivor-led organisation that harnesses the expertise of people affected by abuse in order to transform society's response to trauma and abuse. They state that they are 'experts by experience', survivors of all types of abuse, experienced as a child or as an adult, 'turning our pain into the power to create something good.'
We are very grateful to all those with lived experiences of abuse who engage with us in order that we can improve our support to victims and survivors. If there is something you think we can be doing better or there is something missing from this page that you think would be helpful, please contact a member of the team.
---
Key contacts
Greg Barry

Lead Diocesan Safeguarding Adviser
07585 952174

Caroline Smith

Diocesan Safeguarding Adviser
07768 036590
Anthony Glockling

Diocesan Safeguarding Adviser
07825 315748

Alison Jones

Safeguarding Administrator


Get in touch

Ruth Campbell

Safeguarding Trainer
07585 101624