Our link with Mpwapwa was established in 2005 and is a great joy and blessing to all involved.
Mpwapwa Diocese is located in the central highlands of Tanzania and has a beautiful landscape of mountains and plains.
Founded in 1991, Mpwapwa is one of the 28 dioceses of the Anglican Church of Tanzania. It has grown much since then - it now has 138 parishes, with 650 small church congregations spread across 13 deaneries.
Their fourth Bishop, the Rt Rev Luzineth Kingamkono, was consecrated and enthroned on 27 August 2023.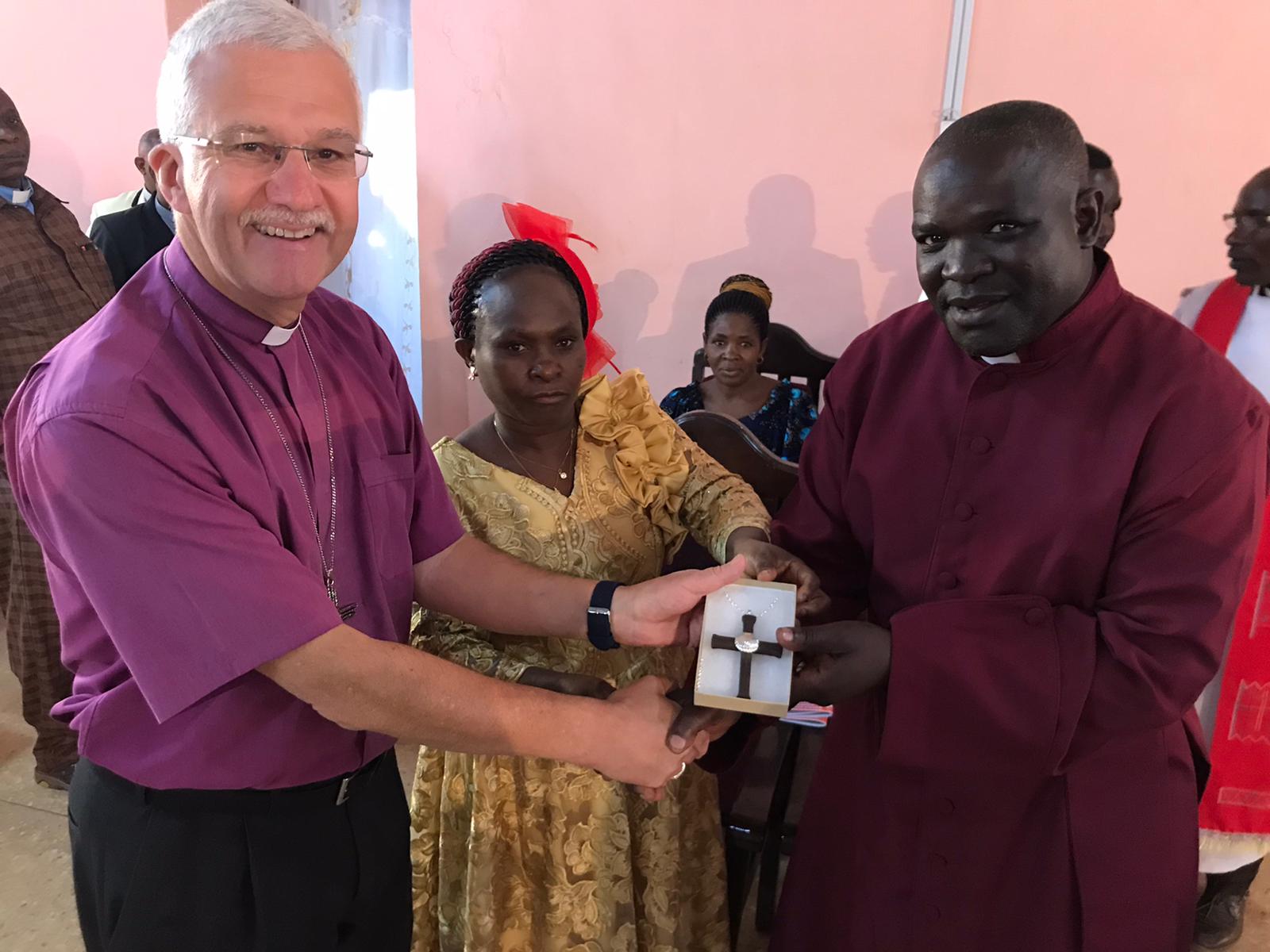 Photo: Bishop Jonathan presents the new Bishop of Mpwapwa, Bishop Kingamkono, and his wife, Dorika, with the gift of a Pectoral Cross (picture David Kitley)
Read about Bishop Jonathan's recent visit to Tanzania
More about Mpwapwa
The key challenges for the Diocese are climate change, and the empowerment of the people. Most are subsistence farmers, so when the rains fail, or are late, this results in poor harvests, hunger, and nothing to sell in the markets.
While the people are very poor, they are rich in their love of God, worship and hospitality and we have much to learn from them.
Many of the church leaders have little theological training and are dependent on their congregations for income.
The Diocese is about the size of Wales with few properly surfaced roads, so keeping their few essential vehicles roadworthy is a constant drain on diocesan resources.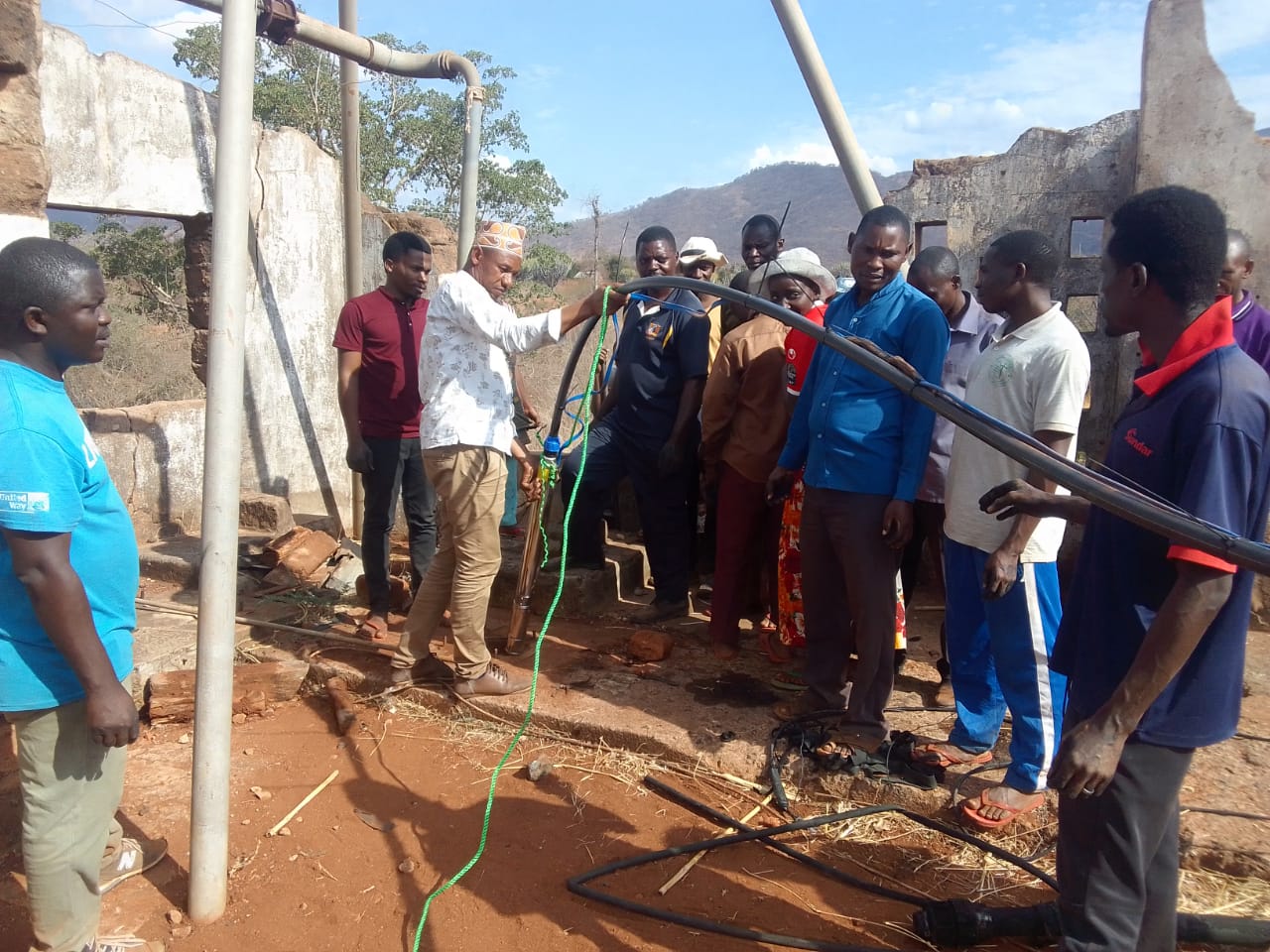 Photo: A solar powered water irrigation project in Mpwapwa, funded by the Diocese's Poverty and Hope Appeal

Link in action
Rochester has eight parish links, two secondary school links, and several primary school links within Mpwapwa.
St Philip's College and Queen Esther's School in the Kiboriani mountains, and St Luke's Medical Centre in Mpwapwa town, have captured the hearts of many Friends of Mpwapwa during their visits and now support these places through funding or their time.
Those with links or special friendships gather together several times a year to share and pray for the links.
Others from Rochester and further afield have signed up to become a "Friend of Mpwapwa" and receive the Mpwapwa Bulletin three times a year, and the occasional email update or prayer request.

Case Study: Shoreham and Chunyu
The link between St Peter and St Paul, Shoreham; Shoreham Village School; St Michael's School, Otford, and St Joseph's Chunyu; Chunyu Primary and Secondary Schools were formed during a visit to Chunyu in 2018 by the Parish Vicar and Headteacher of Shoreham Village School.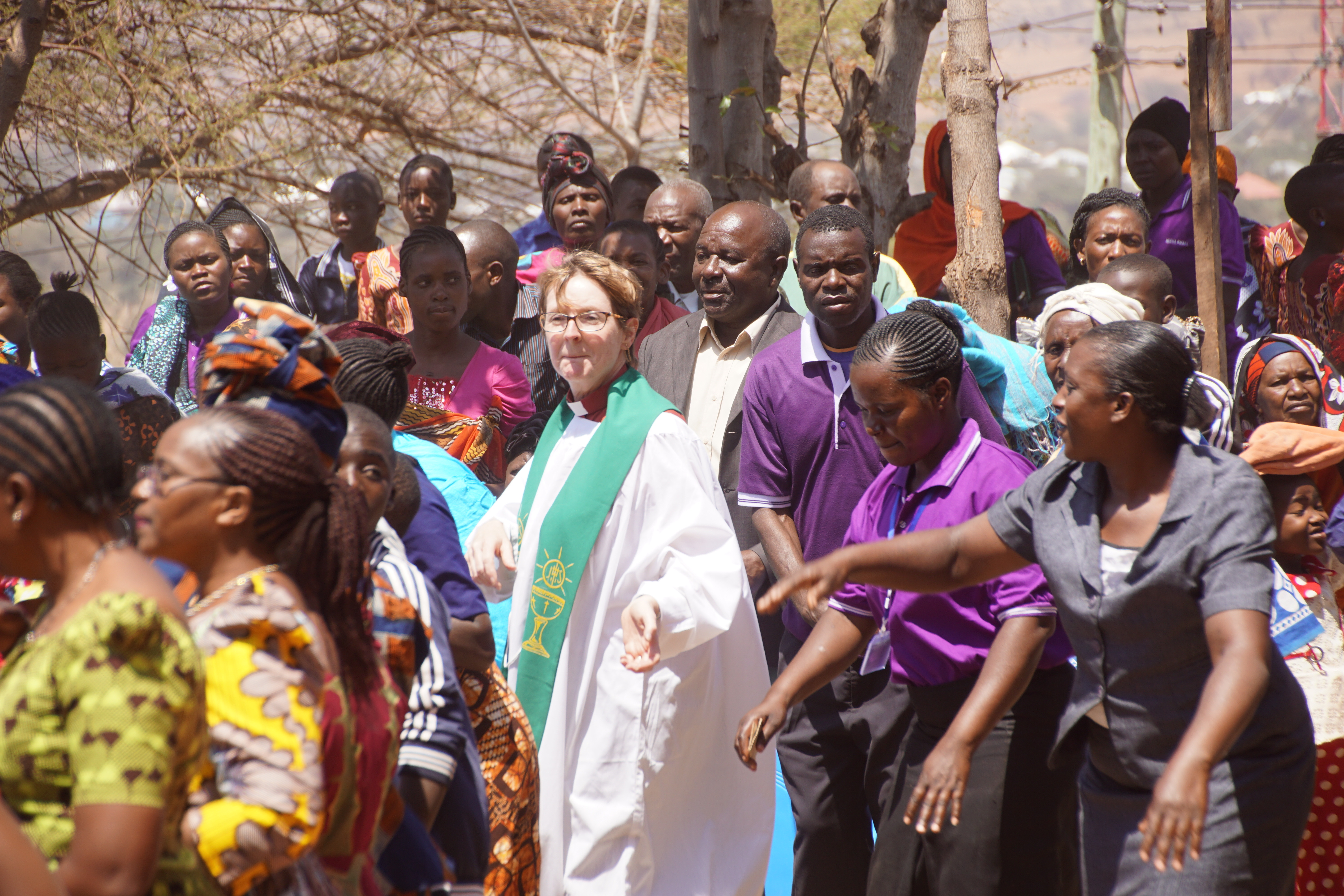 Photo: A vicar from Shoreham enjoys taking part in worship in Chunyu
Greetings and photos are regularly shared on their WhatsApp Group, sharing news and events as well as prayers and celebration music. A much-anticipated visit, planned for 2020, was postponed when the Covid pandemic struck.
This is what those involved with this link have to say:
"Our partnership between Chunyu and Shoreham has enabled us to build bonds of friendship and support, and to further develop our understanding of commonalities and differences, and to celebrate them together."
Shoreham was quick to respond to news of a fire at Chunyu Secondary school, sending emergency funds out to support pupils who had lost personal and school equipment.
Chunyu villagers had already started building a new church during the visit in 2018, and have since made recent progress towards roofing the church, kindly supported by Shoreham.
St Philip's Theological College
St Philip's Theological College is a Provincial College established in 1914 by missionaries and is overseen by the Anglican Church of Tanzania. It is a valued part of our link with Mpwapwa.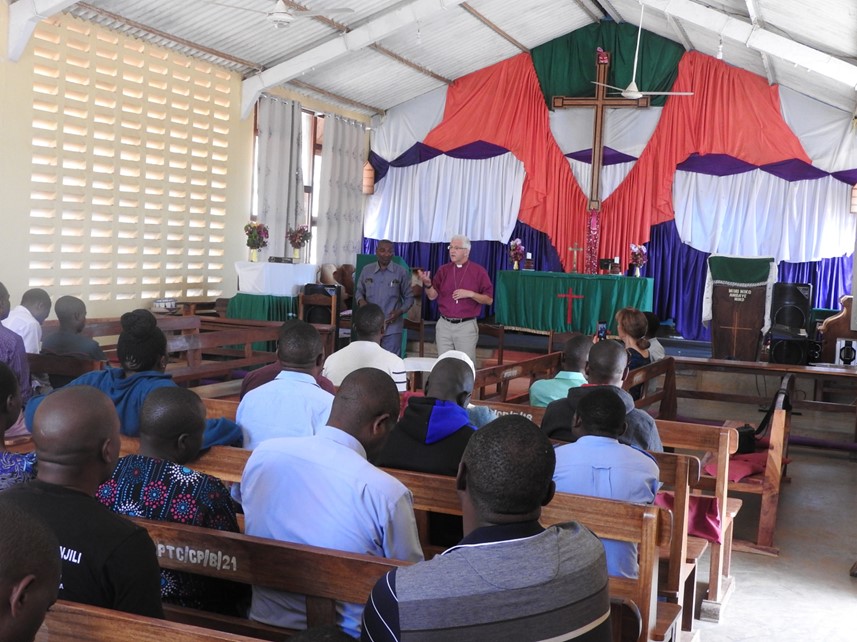 Photo: Bishop Jonathan Gibbs, the Bishop of Rochester addresses students at St Philip's

The current Principal, Rev Canon Captain Agripa Ndatila, is from Mpwapwa Diocese, in which the College is located. It has a beautiful campus, in a quiet setting on the slopes of the Kiboriani Mountains, overlooking the plains of Kongwa.

There are currently 65 residential students (some with their families), studying for either a 3-year Certificate or Diploma in Theology.
Read more
Over the years the College has established agricultural projects – both to help feed the students and to sell as a college income stream. These include
a fish farm (tilapia)
cattle and chicken
bees and pigs
By using drip feed irrigation, they have produced bumper crops of maize, fruit, and vegetables; amazing during a time of drought; preparing their students to share this knowledge in their future rural parishes.
The College has become a centre of excellence in water management and shares its expertise with others to help combat the impact of climate change.
Currently, four students receive bursaries from either a parish or individual. This is a great investment in future church leadership, as few potential students - or their dioceses - can afford the £700 per annum fees for the 3-year course.

Giving
If you would like to give towards the ministry and mission of Mpwapwa Diocese this can be done in the following ways:
If your gift is for a particular project like Queen Esther's, St Philip's etc please make this clear in the "Public Message of Support" section of the Stewardship page.
Get involved
If you are interested in getting involved with a project in, or forming a link with Mpwapwa, or would simply like to become a "Friend" please contact Sylvie and Stephen Barbor, Chairs of the Link on mpwapwa.cdsg@gmail.com

Friends of Mpwapwa are emailed the Mpwapwa Bulletin three times a year and the occasional email with news.