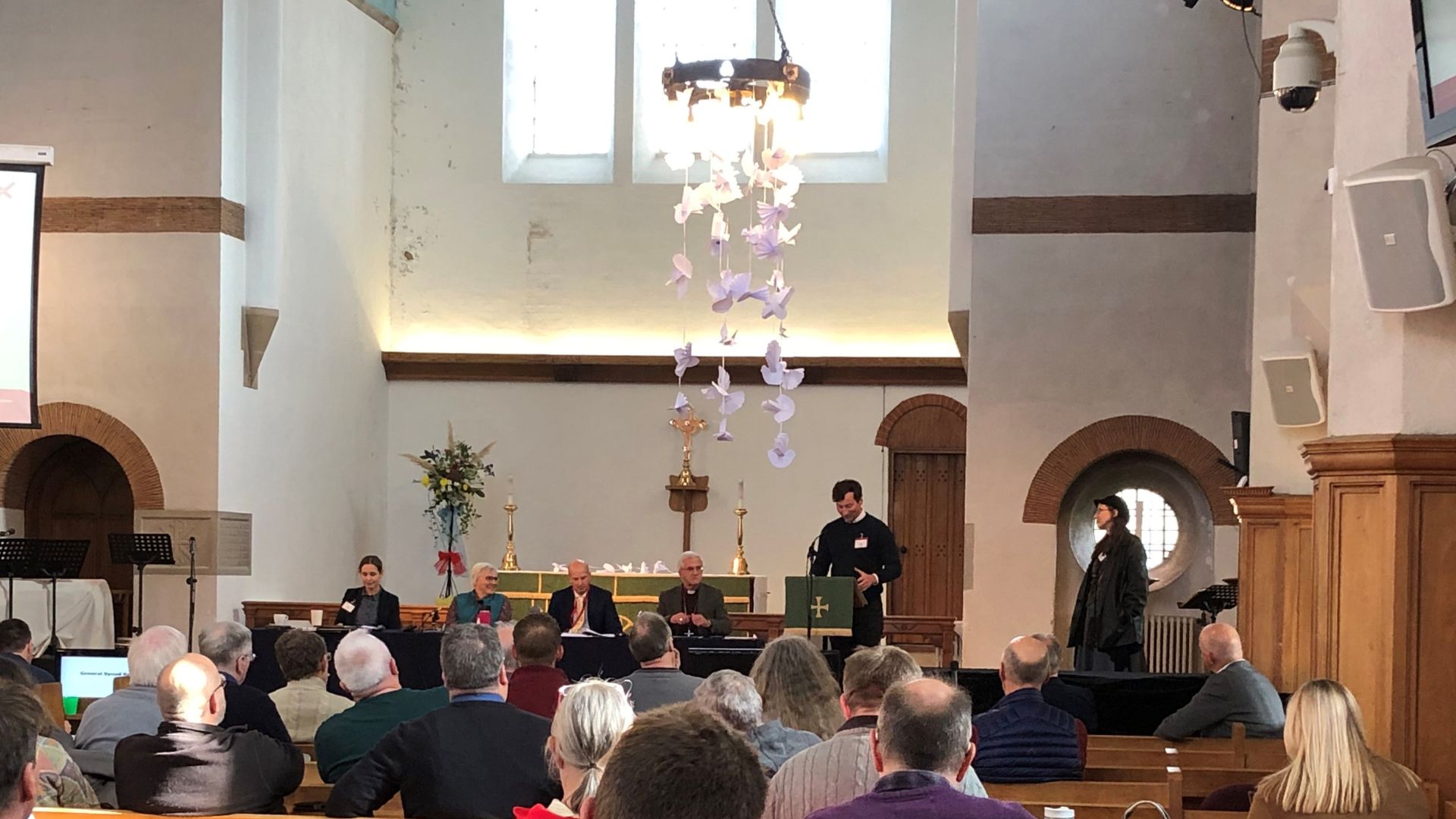 Diocesan Synod met at Christ Church, Dartford on Saturday 4 November.
As the main policy-making body for the Diocese, and the forum for the discussion of issues important to diocesan life, key items on the agenda this time included:
• The budget for 2024
• A presentation on the work underway to develop our diocese's shared Called Together vision
• A motion to approve an updated and revised anti-harassment and bullying policy
There were updates on Safeguarding, the July General Synod, and an opportunity to share moments of 'good news', which this time focused on stories coming out of the Archdeaconry of Tonbridge.
The business of Synod also included the promulgation - formal putting into effect – of an amendment to Canon No. 42.
This amendment replaces the requirement for the bishop of each diocese to appoint a Diocesan Safeguarding Adviser (DSA) with a requirement for the bishop to appoint a Diocesan Safeguarding Officer (DSO) with responsibility in the diocese, independent of the bishop, for professional leadership on and management of safeguarding matters.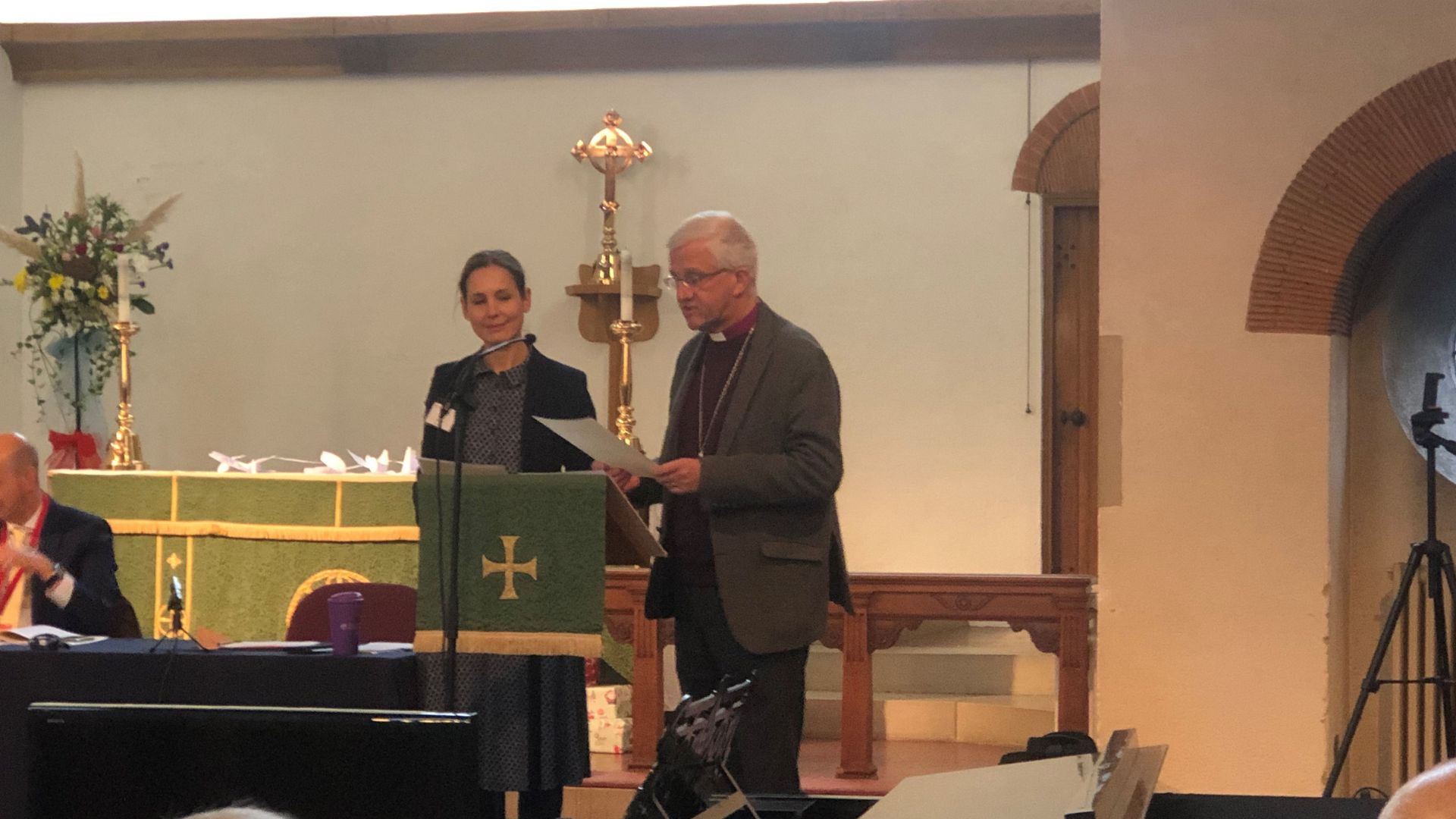 Photo: Patti Russell is sworn in as the new Diocesan Registrar
Synod was also introduced to Patti Russell, who has been appointed as the new Diocesan Registrar, and witnessed her being sworn into the role.
She takes up the post from Owen Carew Jones, who retired as Registrar last year, and moves from the role of Deputy Registrar, a role which Patti previously held picking up all the business of Registrar since Owens retirement.

Bishop Jonathan's address
In his Presidential Address, he took the opportunity to reflect upon some of the huge challenges facing the world and the Church at this time, and to unpack some of the thinking that is helping shape the development of the Diocese's Called Together vision.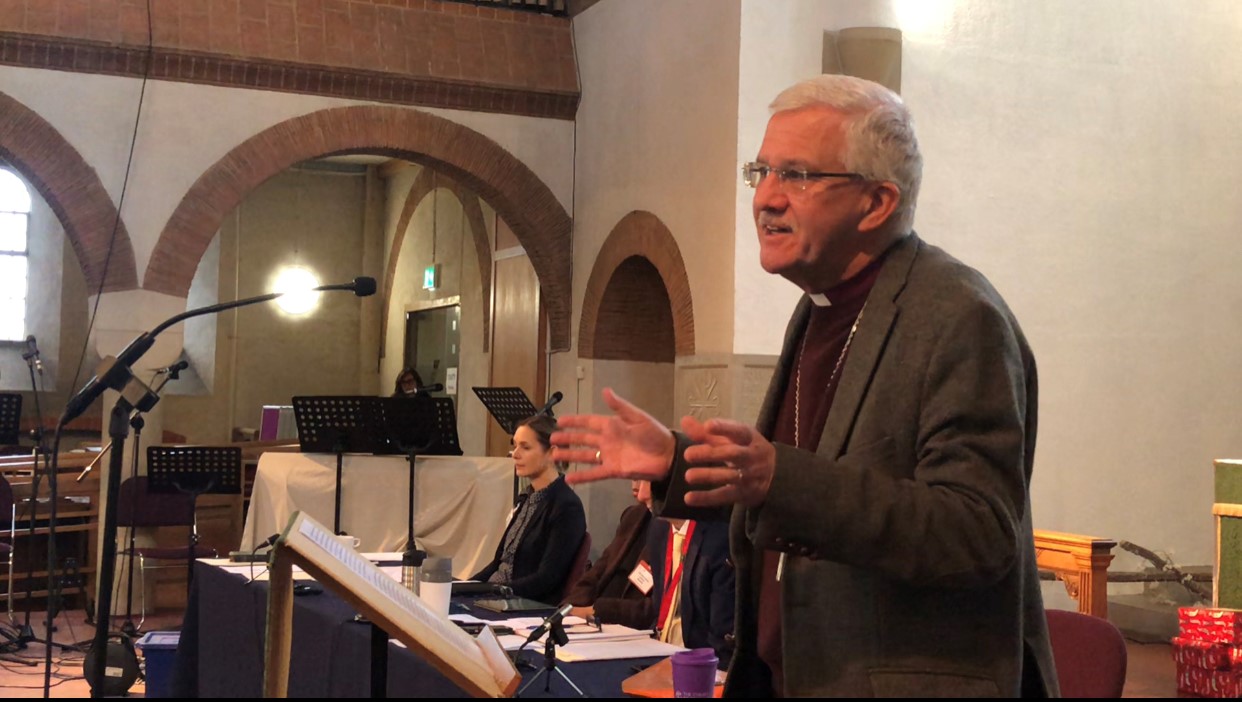 Drawing upon the reading from Ephesians 4: 1-16 that was used during the Synod's worship, Bishop Jonathan highlighted the important themes of our unity in the Spirit, including in relation to the forthcoming General Synod debate on Living in Love and Faith, and of the diversity of gifts given to the Church – 'apostles, the prophets, the evangelists, the pastors and teachers' – as being crucial to his thinking around what living out our diocesan, Change, Grow, Serve, agenda might look like.
In an often fearful and polarised world, Bishop Jonathan encouraged Synod to remember that:
"We need to model how people can live alongside one another and love one another even when they disagree."
He added:
"I hope and pray that we will be able to rise to that challenge, to be a sign to the world of a different way of being, demonstrating the life of the kingdom of God in the way we love one another, serve the people and communities around us, and together bring the hope of Christ to an often fearful and, yes, lost generation."
Read his address in full here or watch online - captions are available.

Budget for 2024 presented
Diocesan Synod received a presentation on the Diocesan Budget for 2024 from Nigel Pope, Chair of the Board of Finance, and John Jackson, the recently appointed Director of Finance.
Nigel acknowledged that, while the budget being presented included a deficit of £1.46m, having been able to hold it at this level had been a major achievement, given that inflation had been running in double figures for much of the last 12 months, and a 5% budgeted rise in stipends and salaries.
Maintaining such a deficit is neither desirable or sustainable, and Nigel and John made clear that we can only eliminate the deficit and put the diocese's finances on a sustainable footing if we work together.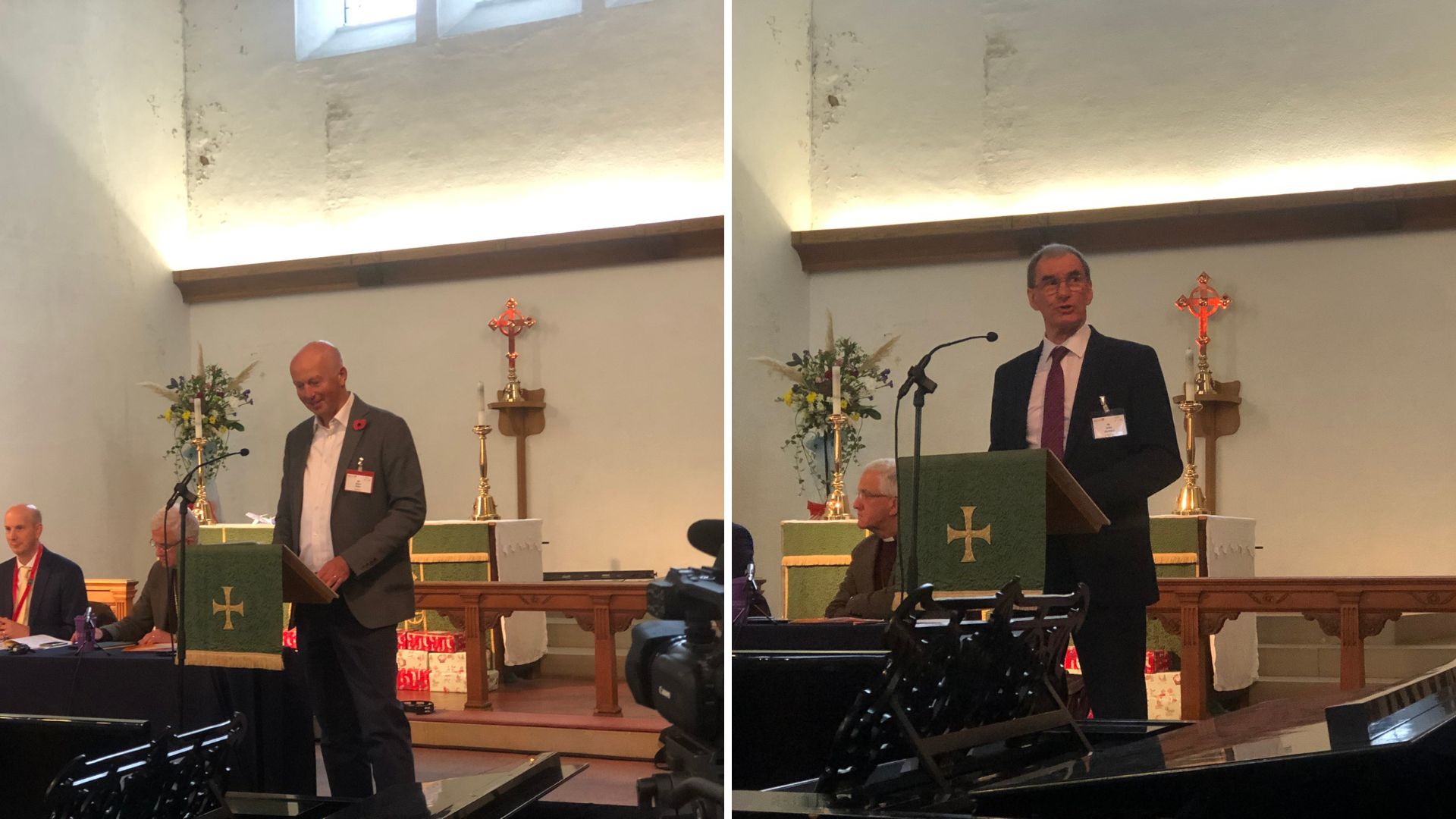 Photo: Nigel Pope (left) and John Jackson (right) present on the budget and the Common Fund.

It further showed how important Parish Offers continue to be. John encouraged everyone to start thinking about the small changes we can make, as individuals and as individual congregations, which collectively will bring transformation to the diocese.
John confirmed that a review of the Indicative Offers System was planned for early next year, and the Finance Team will be looking to consult with as many parishes as possible.
Both made clear that the intention of the Diocesan leadership is to GROW the Diocese out of the deficit, not cut its way out.
Following the presentation, Synod approved a motion authorising the expenditure of a sum for the Common Fund - the common pot of money paid into by parishes - not exceeding £14.0m.

Sharing good news
Archdeacon Sharon Copestake, the Archdeacon of Tonbridge continued a recurring series of presentations at Diocesan Synod, in which an Archdeacon is invited to share good news and small signs of encouragement from their area.

Archdeacon Sharon said the stories she wanted to share demonstrate a shift she is observing, that is moving away from a narrative of Covid and tiredness, to one where she is hearing words such as restoration and renewal.
Churches are 'making a way through the wilderness' and seeing 'rivers in the desert'.
It's slow, people are cautious, but there is an uptick in attendance. Several incumbents are also talking about some positive signs in a rise in the numbers of those people who are able to lead Children and Young People worship and activities.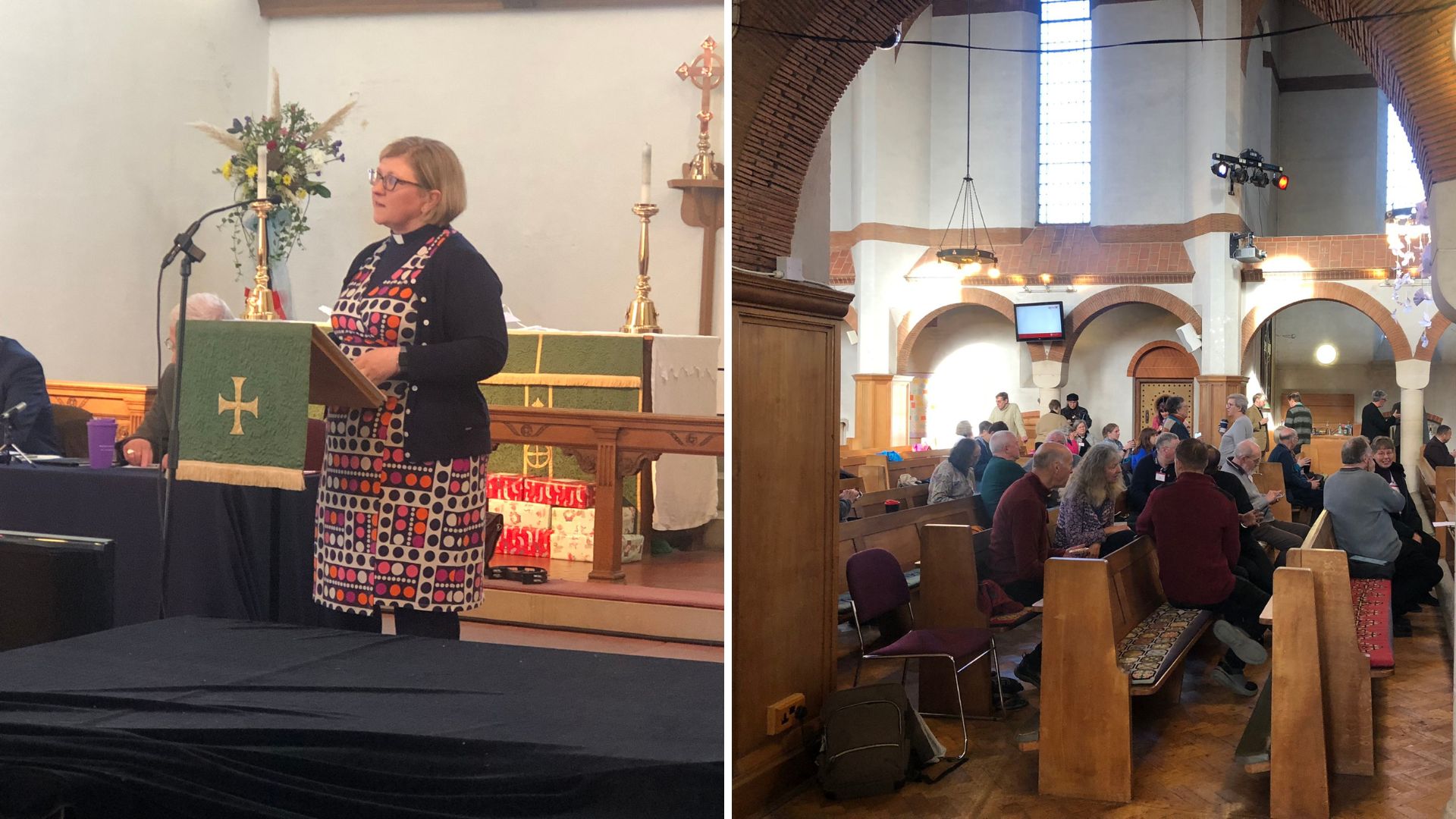 Photo: Archdeacon Sharon (left) shares 'good news' and Synod (right) has time to tell others of encouraging signs in their areas.

There are new connections too. One small church has reported on the quick sell-out of stalls for their Christmas craft market, which was unexpected, and another, a new Christmas concert with their local school.

One church has held their first adult baptismal services, and the candidate has said that their life has completely changed
Elsewhere, a positive connection with the local Ukrainian community has continued to grow. From the laying on of an informal space where the community could gather socially, the church has now obtained a faculty allowing the Ukrainian community to have a monthly act of worship in their own language.
Diocesan Synod was then asked to take some time to talk with each other about where they may be seeing a new thing emerge in their context.

Work to evolve our Diocesan Called Together strategy
Archdeacon Andy Wooding Jones, Archdeacon of Rochester, and Claire Boxall, Called Together Manager, presented on work around the Called Together vision, as we seek to Change, Serve, and Grow.
Some exciting things are happening.
As the diocesan vision continues to evolve, data from resources like the Statistics for Mission and the Archdeacons Articles of Enquiry are being used to help inform what is needed.
A capacity funding bid to the Church Commissioners has recently been approved, bringing in just over £700,000 over the next 3 years, to support some new roles, all with a strong focus on helping support parishes, particularly in the areas of HR, Communications, and the Archdeacons.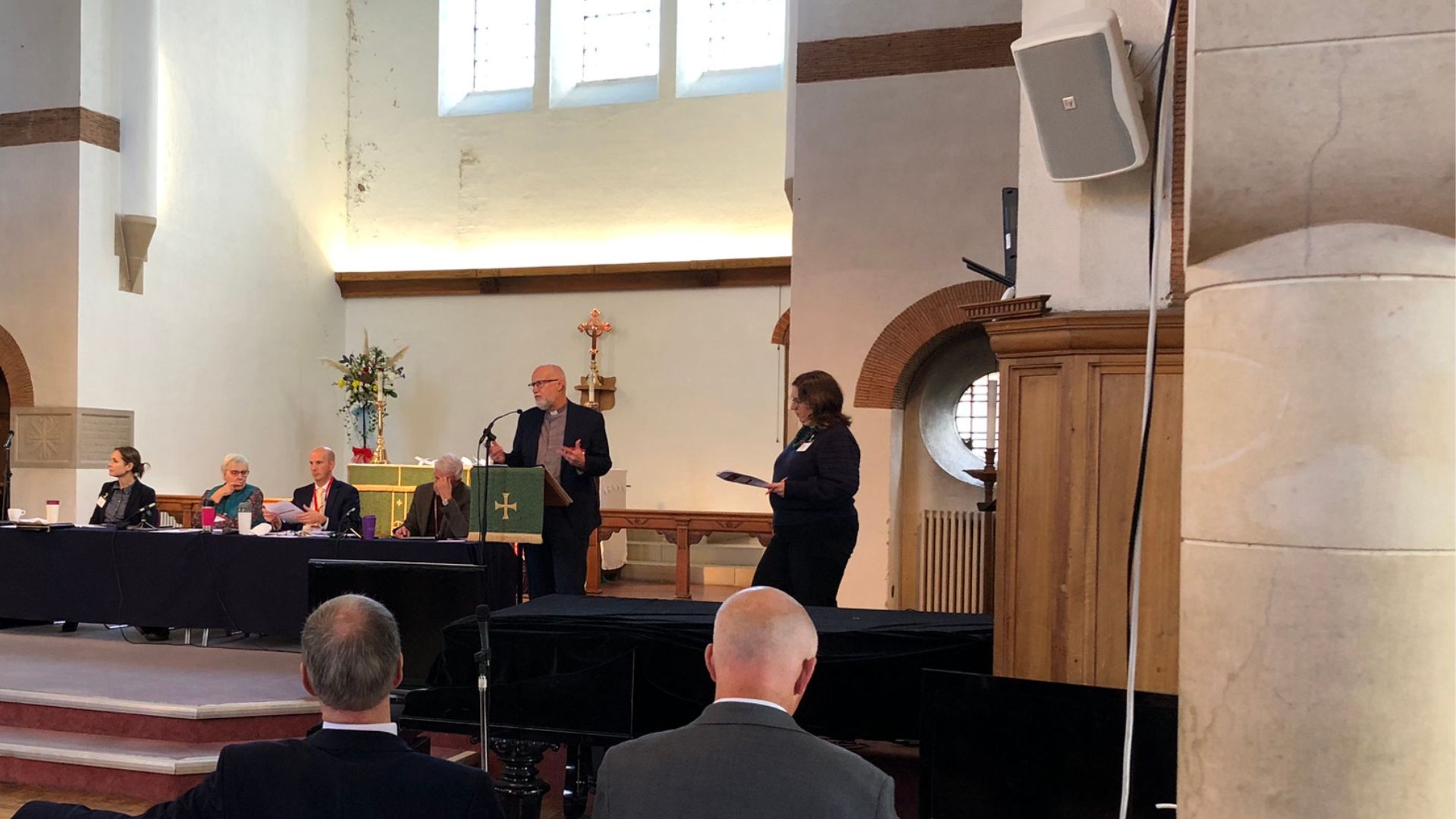 Photo: Archdeacon Andy and Claire Boxall update on work around the Called Together vision

News has also just been received of the Diocese receiving £186,000 from the national church to support a Church Buildings Support Officer for two years and to provide a Minor Repairs and Improvements Fund which will enhance the Missional Property Fund.

This is alongside a commitment for further funding from the Marshall's Charity into the Missional Property Fund, and in total sees £286,000 all focussed on churches and buildings.
This is particularly good news as parishes often share that their buildings are a big drain on their time and resources.
Synod was also updated on some work that the Bishop's Council has undertaken to help with the evolution of our Called Together priorities.
Key themes emerging so far are missional churches and leadership, growing and planting churches, and growing younger and more diverse.

Anti bullying and harassment policy
Archdeacon Sharon Copestake, Archdeacon of Tonbridge, spoke in her capacity as Chair of HR Group, about the work that has been carried out to review the Diocesan Anti-Bullying and Harassment policy.
This work has also been reviewed by the Bishop's Leadership Team, the Registry, and approved by Bishop's Council.
Archdeacon Sharon said the policy seeks to act as a framework and statement of commitment to following a process.
It is also a signposting document to other policies and processes.

Revisions include:

• An update on definitions
• A clarity that advice may need to be sought from the Safeguarding Team on occasion, where appropriate
• An acknowledgement that bullying can be perpetrated by a lay person
She also said it is hoped that, in its reordering, it would make the policy easier to read. PCCs will be asked to adopt the policy.
Archdeacon Sharon indicated that she would be leading work early in the new year to look further at the issue of the bullying of clergy.
The policy was adopted by Synod, with the understanding that some helpful clarifications from the floor were addressed.
Wider communication and training around the policy will now be explored.
Diocesan Synod next meets in March 2024