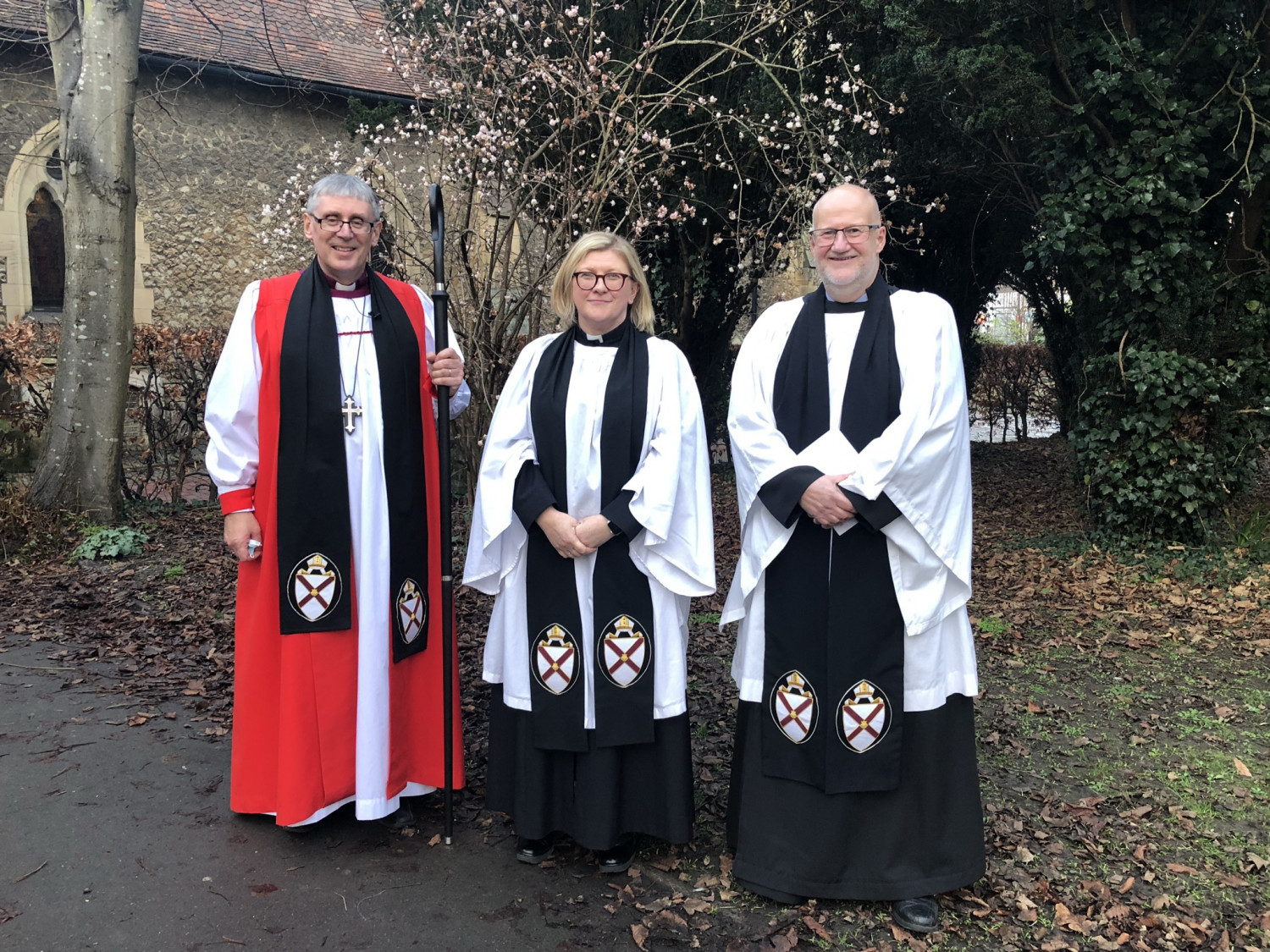 The Venerable Sharon Copestake was welcomed into her new role as the Archdeacon of Tonbridge at a special service in St Stephen's Church, Tonbridge on Sunday 16 January 2022.
Representatives from the Archdeaconry, civic dignitaries, as well as friends and family came to support Sharon, as she began her new ministerial role.
Sharon comes to the role having served as Vicar at St Francis, Strood for over six years, and as Area Dean of Strood for almost five. Read more about Sharon.
With the number of those who could attend restricted due to the ongoing pandemic, well-wishers from across the Archdeaconry, and the Diocese, were able to join the service via a livestream on the church's YouTube channel.


Bishop Simon Burton-Jones led the service, and in his sermon, spoke of the role of an archdeacon as being deeply rooted in the ethos of the early church in its commitment to service.
He encouraged Sharon, and all those listening, to not be overcome with worry, to not grow weary of figuring out what is the right thing to do, and to never lose sight of the goal above all goals – which is to be drawn into the heart of God together:
"[But] we should never lose sight of the goal above all goals, from which God does the thing he does best: turning our water into wine. And get this: on one hand, Jesus says, seek the kingdom of God. And on the other hand, he says, the kingdom of God has drawn near. The goal is almost in our grasp when we simply turn to God.
"Sharon, pursue this goal with single-mindedness, and when you are thrown off course, re-set the coordinates.
"Because in doing so, you will be of the greatest service to those you have come to serve."
After anointing Sharon in her new role, Bishop Simon blessed her, saying, "Be bold, be strong, for the Lord your God will be with you wherever you go."
During the service, Sharon renewed the declarations she made at her ordination as a reminder of the original promises she made then, and took new oaths, committing her to her role as Archdeacon of Tonbridge.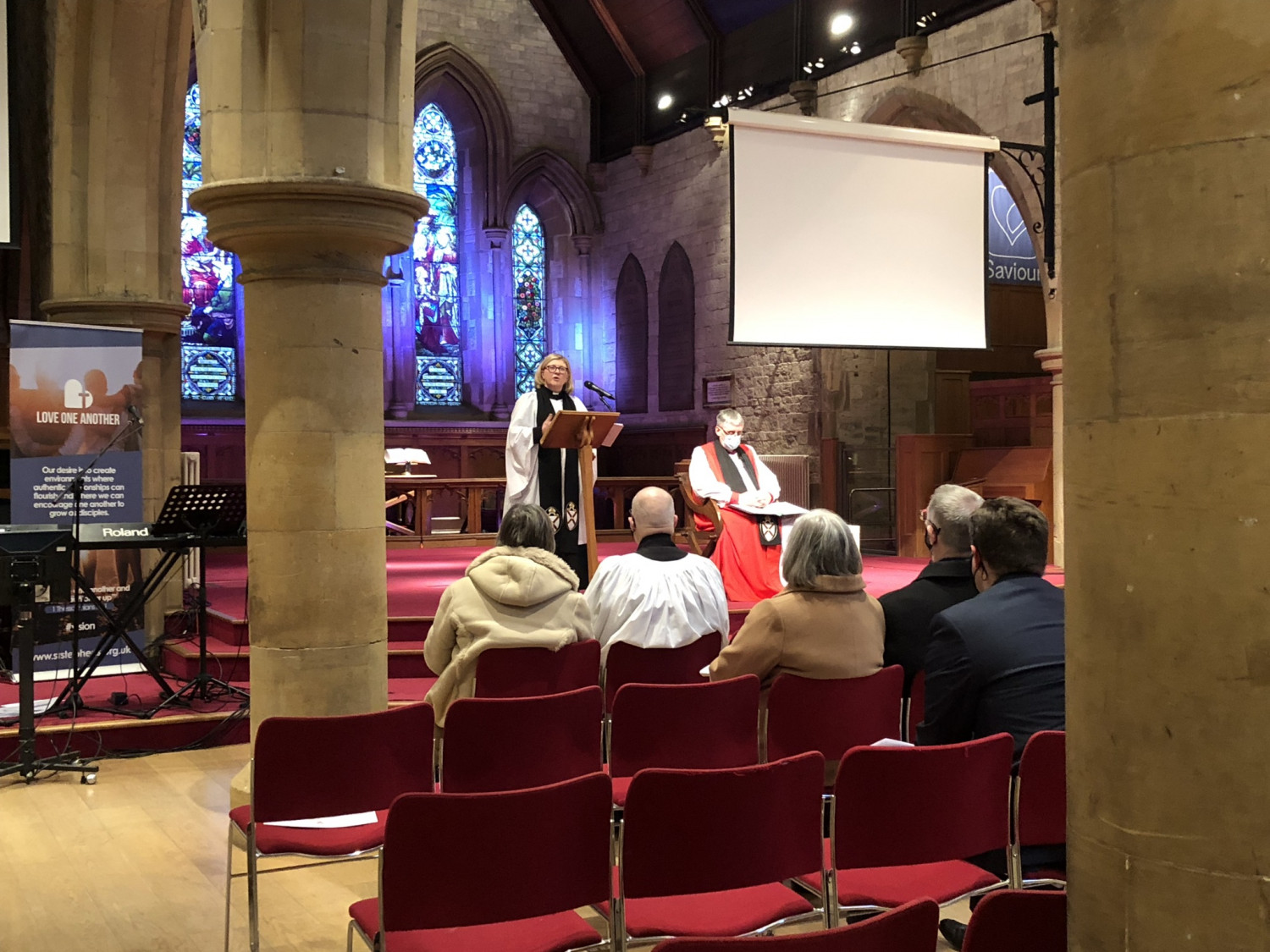 In her first act of public ministry as Archdeacon, Sharon led the prayers. They underlined her concern that we all be reflectors of the good news of Jesus, and instruments for justice of all kinds:
"You have called us to be a light to the world. May we always seek to be your light, so that we shine brightly into the darkest places, where people are marginalised, oppressed, hurt, and abused. May our witness to your saving grace for all, put out the darkness and reveal your wonderful light.
"Lord, in your mercy. Hear our prayer."
The Archdeacon of Rochester, the Venerable Andy Wooding Jones, led the official 'greetings' to Sharon, by inviting the different representatives present from the deaneries of the Archdeaconry of Tonbridge, civic society, and the Diocesan Office to stand as a sign of their welcome to Sharon.
In closing the service, Sharon said she was looking forward to getting to know the churches and people of the Archdeaconry, and encouraged them to invite her to services, or just for a chat over tea and cake!
View a gallery of pictures here
Introducing the Archdeacon of Tonbridge - The Venerable Sharon Copestake
Amidst what has been a couple of very tough years for everyone I am thrilled to find myself here today to become your Archdeacon. I am looking forward to getting to know you over the coming months and years, and serving the good people of Tonbridge Archdeaconry.
I firmly believe that God continues to have big plans for this Archdeaconry, and so it a real privilege to be able to come and be among you and serve you in this way. I am from Kent – I grew up in a Christian home and belonged to St Mark's Gillingham as a child and teenager, I went to school in Chatham and Rochester.
My first degree was in Economic Development and Planning, and with that I returned to Medway and Kent, working in Government agencies and local Government across the county. My roles in research, policy and key project development, led to me to work in strategic settings across Kent for a number of years, ultimately in developing links between various sectors (public, private and the charity sector).
Following this I also worked developing local multi-agency community projects, and, after I had my children, I retrained as a counsellor and psychotherapist, spending much of my time with issues concerning bereavement. In 2000 I was licensed as a Reader and I served in a church in Gillingham for over ten years in that role before I trained for ordained ministry (at SEITE, now St Augustine's College). Whilst there I gained a degree in Theology for Ministry, completing a post graduate diploma during my curacy at St Philip & St James, Chatham. Latterly I have served as Vicar at St Francis, Strood for over six years, and as Area Dean of Strood for almost five.
Our shared Christian calling is to be the good news of Jesus to all those that we meet and serve – my prayer for this Archdeaconry is that we continue to be this good news together, building upon all that has gone before, and looking ahead to all that God has planned for us.
I hope that we can work productively together for God's kingdom, seeking that first above all things. I come to Tonbridge with my husband, Graeme, and our two daughters (19 and 21), and our dog – who is very friendly and loves to see visitors. I love cake and am always willing to chat over that with a cup of tea. In addition, I love playing board games and when I have no one to play with (or against!) you can find me at my piano.
Do invite me to take part in any of those things, or to come along to your parish or place of ministry – I will be delighted to preach, talk, play or chat.