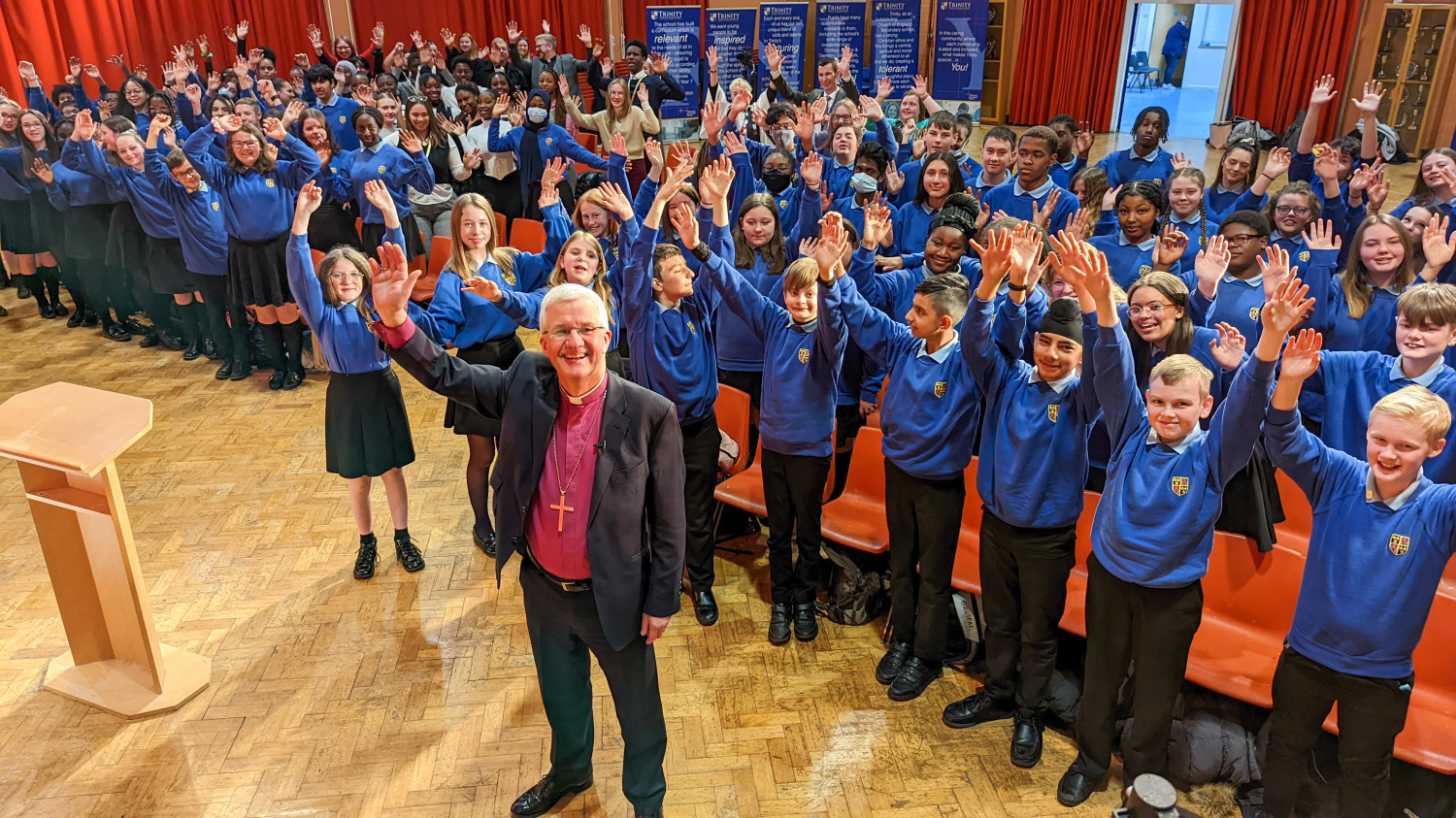 DOWNING STREET has announced today, Thursday 31 March, that the new Bishop of Rochester will be the Rt Rev Jonathan Gibbs.

Jonathan is currently the Bishop of Huddersfield in the Diocese of Leeds and holds a national role in the Church of England as Lead Bishop for Safeguarding.

The announcement from Downing Street at 10am, confirmed that HM The Queen had approved the nomination of Bishop Jonathan to be the next Bishop of Rochester, succeeding the Rt Rev James Langstaff, who retired in July 2021.

Bishop Jonathan will lead the Church of England's Diocese of Rochester, which serves a population of around 1.3 million people and covers 215 parishes across Medway, north and west Kent, and the London Boroughs of Bromley and Bexley.

He was revealed as the new Bishop of Rochester this morning at Trinity Church of England School, Belvedere, one of five Church of England secondary schools within the Diocese. While there, he had the chance to answer some of the students' questions and engage with them in a time of prayer.

Responding to his appointment Bishop Jonathan says:

"I am delighted to have been announced as the new Bishop of Rochester. My wife Toni and I are so excited about the prospect of moving to this wonderful Diocese.

"For us, Rochester will be a new place to discover and we're so looking forward to getting to the know the people of our churches and our communities, and to working together with them as we encourage God's kingdom to grow in this wonderfully varied and rich place."

"We are very conscious of the diversity of the communities that we serve, from urban and suburban to profoundly rural, and I am looking forward to the opportunity of exploring all these different places and to sharing in the journey with the people here of growing God's Church, of serving the communities, and of proclaiming the good news of Christ to the people whom we seek to love and to serve in Jesus' name."
Watch Bishop Jonathan's full message of "hello" below.

The Rt Revd Nick Baines, Bishop of Leeds said:

"Although sorry to lose such a good colleague and friend from Leeds, I am delighted to see Jonathan bringing his great gifts and experience to Rochester.

"He has a sharp mind, a pastoral heart, and a huge capacity for service. He leaves with my gratitude and prayers."

Over the rest of the day, Bishop Jonathan met with some of the people and parishes of this diverse and vibrant Diocese, to learn more about the part churches and Christians are playing in transforming their communities for the better.

In Sidcup, he spent time with members of the local Ukrainian community with whom the church of St John's – along with the wider community - has been standing alongside with compassion, prayer, and practical assistance. As part of the church's developing offer of support and welcome, English for Ukrainian classes have started to run out of the church to help both existing and future members of the community.

Travelling to one of the most rural parts of the Diocese, Edenbridge, he visited the BRIDGES Community Centre. This multi-denominational church initiative has 'service to the community' at its heart. It includes the Place of Welcome community hub, an initiative that offers local people a safe space to meet and connect with others, learn about local community services, and enjoy a good cup of tea.


In Chatham, Bishop Jonathan helped welcome new members of the ministry team to St John's, as part of their exciting journey of regeneration and new life. Having reopened in April 2021 after more that 20 years of closure, St John's in Chatham is part of an ambitious commitment to mission, ministry, and partnerships in the town.

Projects there include Genesis Football, which uses sport to engage with isolated and vulnerable adults, and Medway Oaks, a Sunday afternoon congregation and drop-in for the homeless and marginalised, run in partnership with the Christian organisation, Church Army.

At the Medway Campus, lay chaplain Lynne Martin, accompanied by some of the students, took Bishop Jonathan on a tour of the site which is home to three universities: Canterbury Christ Church University, Greenwich University, and Kent University. There, he heard about the difference the chaplaincy makes to the students' lives and about some of the issues they face as young people.

The day ended at Rochester Cathedral where Bishop Jonathan joined the congregation for Evensong.

Bishop Jonathan's installation as Bishop of Rochester is expected to take place sometime in September. More details will be made available in due course
More about Bishop Jonathan
Jonathan Gibbs grew up in Cheshire and then studied at Jesus College, Oxford for his MA in Philosophy and Politics and Jesus College, Cambridge for a PhD on the Theology of Work.

He trained for ordained ministry at Ridley Hall, Cambridge. He served his curacy in the Diocese of Chester at Stalybridge, Holy Trinity and Christ Church from 1989 -92. He was Chaplain at Basle with Freiburg-im-Breisgau, in the Diocese of Europe from 1992 – 98 and was Rector of Heswall in the Diocese of Chester from 1998 until 2014.

Jonathan was consecrated as Bishop of Huddersfield in York Minster on 17 October 2014. He currently holds the national church portfolio of Lead Bishop for Safeguarding and will continue in that role until the end of March 2023, completing his three-year term.

He was formerly a member of the Clergy Discipline Commission and is a member of the General Synod and of the Meissen Commission, linking the Church of England with the Evangelical Church in Germany.

He is married to his wife Toni, and they have three grown-up children. His interests include walking, usually accompanied by their Cocker Spaniel, and rummaging in second-hand bookshops.

He is a fluent French speaker with a love of France, and especially its wines. He also speaks German and Swiss-German.

He and his wife, who originally met when working in Paris, enjoy entertaining and making new friends. Jonathan is also a member of the Campaign to Protect Rural England and the Campaign for Real Ale, committed to supporting village and community life.


For any media who would like more information, please contact Jennifer Ross, Communications Manager for the Diocese of Rochester on: jennifer.ross@rochester.anglican.org