Thank and pray for those who have stepped up to coordinate safeguarding in your church or local setting, so we can protect vulnerable people together.

Each year, the Christian safeguarding charity, thirtyone:eight, invites churches to take some time around Safeguarding Sunday to:
explore together what safer places look like
thank those working behind the scenes to make churches safer for all
show your community that you take safeguarding seriously.

Q. How could you incorporate some of the points above into your church's life this year?
Use the Safeguarding Sunday materials
This year, Safeguarding Sunday takes place on 20 November, but you can use the thirtyone:eight materials at any time.
Whether you can give just a few minutes or can dedicate your whole service, they have everything you need to help plan and run your events - see the ideas from thirtyone:eight below.

Don't forget to prepare: Be aware that running a safeguarding event may be triggering for survivors or victims of abuse, and may prompt questions, concerns, or disclosures of abuse. Make sure that people know who they can speak to about any concerns and where they can get support to address issues that may arise.

Let people know when the event will be taking place and why. Use the communication guide in the thirtyone:eight Churches Resource pack to help you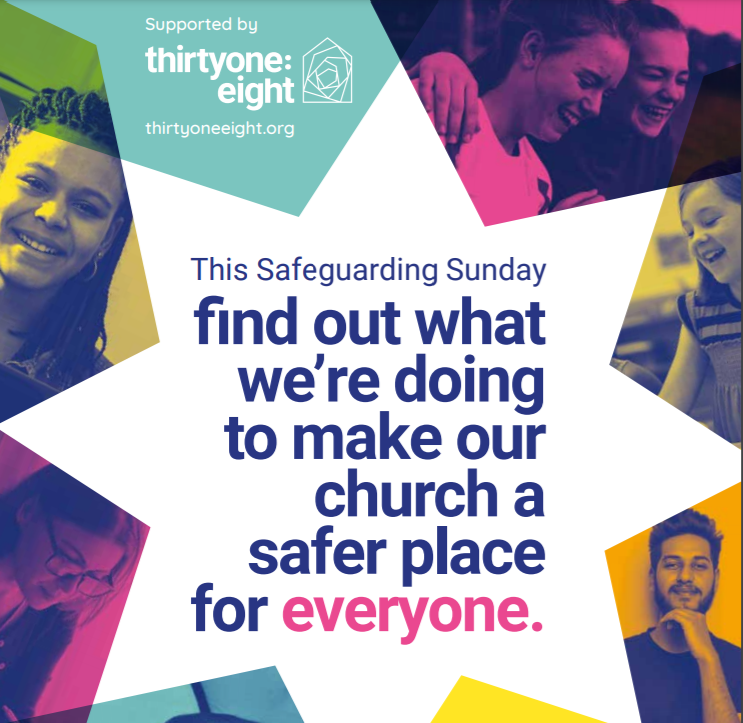 You only have a few minutes
Say the Safeguarding Sunday prayer. If there's only one thing you're able to do, use the Safeguarding Sunday prayer.
Invite your Safeguarding Lead to the front to explain their role
Pray for all those working with children, young people and adults. See their prayer resources for ideas

You have twenty minutes
Use some of the Scripture readings. Include one or more of the Bible readings listed in the Safeguarding Sunday Church resources pack connecting with the theme of protecting vulnerable people.
Sing the Safeguarding Hymn
Explain why you have a policy and what it's for. Letting people know that you have a safeguarding policy and why, demonstrates that you take safeguarding seriously.
Read together the safeguarding pledge as part of your commitment together to create safer places.

You have a whole service
Use the Safeguarding Sunday service liturgy – 'a safe place and a light'. Use the thirtyone:eight service liturgy for children and adults, compiled specifically for Safeguarding Sunday with kind permission from the Iona Community.
Use the hymn and song list to include the theme of protecting vulnerable people in your sung worship.
Preach on the theme of protecting vulnerable people. Use the ready made preaching notes in the Safeguarding Sunday Church resource pack to help craft a sermon or deliver a message on the theme of safer places.
To access the full range of Safeguarding Sunday resources, visit: www.thirtyoneeight.org/downloads

Let's pray
Church should be a place where we can worship, learn, and live together free from the fear of harm. Sadly, this hasn't always been the case.
Thanks to the hard work and courage of many people, things are changing for the better.
On Safeguarding Sunday, churches across the country will be sharing what they are doing to make their communities safer places where everyone can thrive.
But there is still a way to go, and more for us to learn.
As church, God calls us:
To protect the weak, (James 1:27)
To speak-up for those whose voices are not heard, (Proverbs 31:8)
To follow Jesus' example of servant leadership, (Luke 22:26)
and pursue His heart for justice. (Micah 6:8)
Today, with one voice let's pray that God would help us be a church that:
Loves, welcomes, protects.
Listens, learns, serves.
Values, cares, believes.
God of Justice and compassion, hear our prayer.
Help us, heal us, guide us, we pray.
In Jesus name.

Amen
(thirtyone:eight)
As we commit to becoming a safer Church let us pray, especially bringing to mind all victims and survivors of abuse:
Holy God, teach us to thirst for righteousness and for justice in our Church.
Merciful God, we cry to you. We lament the safeguarding failings of your Church.
Gracious God, help us to hear the voices of victims and survivors of abuse and reabuse,
and to make the profound changes needed in your Church.
Compassionate God, help us to repair broken lives
so that those who have been damaged by the Church may no longer just survive but thrive.

Amen
(Prayer written by Bishop Julie Conalty, Deputy Lead Bishop for Safeguarding in the Church of England, in consultation with a survivor)
If you need support